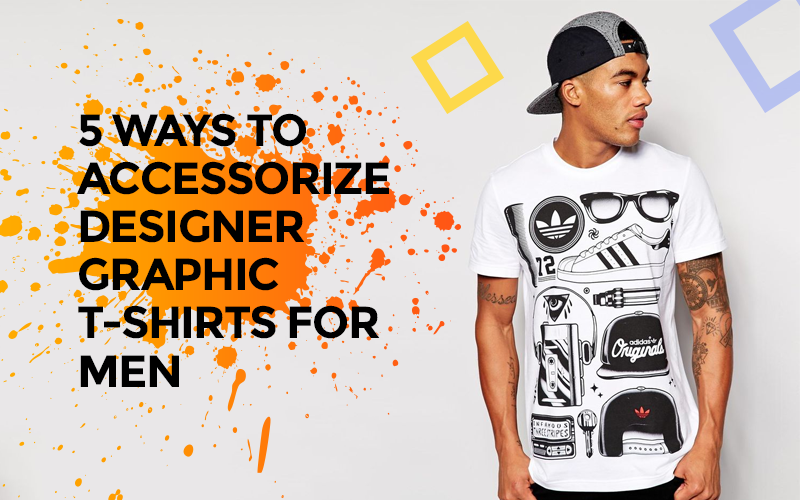 02 Mar

5 Ways to Accessorize Designer Graphic T-Shirts for Men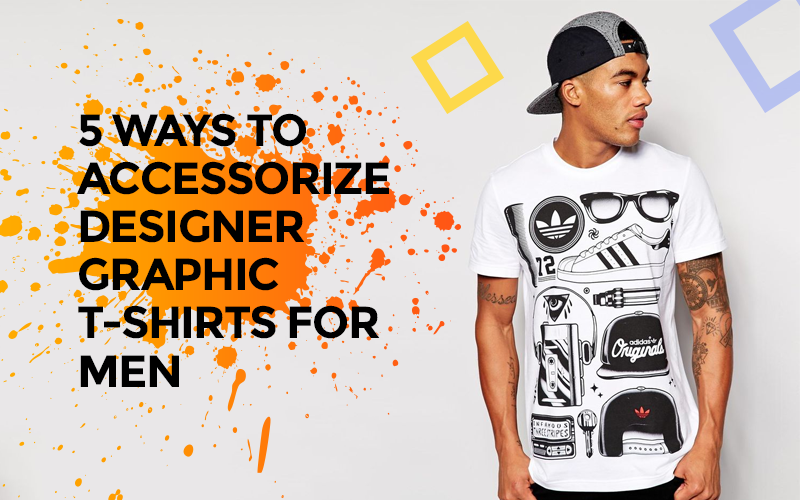 Anyone can get graphic t-shirts and wear them whenever they want, but only a true t-shirt fan will know how to dress them in the best possible way. Graphic tees are one of the best wardrobe items that you will find in every men's closet. Not only are they amazing, but also make sure to add colors in your entire wardrobe collection.
If you are wondering to have a graphic tee or not, then the answer is simply yes. Nobody can ever say no to a graphic tee that they can wear at any time of the day. If you are still unable to make a decision, then here is why you must have graphic tees in your closet.
➤ They are Versatile
You can rock graphic tees with any items of your choice. No matter if you have black or blue jeans, chinos, jacket or shorts – a good graphic tee can make its way out of every fashion clothing. Do not worry and get your hands on the best graphic tees and wear with your favorite clothing items.
➤ They are colorful
What's more happening than a colorful tee to add some colors in your life? If you are wondering how a tee can add colors in your life, then you certainly have never worn a graphic tee. Go shop for a designer Christian t-shirt for starters and see how fabulous it can make you look despite the religious side to it. Not only are graphic tees colorful, but they also add a humorous side to your entire look.  
➤ They are unique
Graphic tees are certainly the most unexpected clothing item that come with astonishing and intriguing designs printed on them. If you want something exceptional in your wardrobe, then a good graphic tee will be the best option for you.
➤ They are minimal
Like a formal shirt, a t-shirt is a much simpler clothing piece that you can carry in your closet. So, if you are looking for something minimal, there is nothing better than a graphic t-shirts from a reliable brand.
➤ They perk up your overall look
If David Beckham can look dapper in a graphic tee, then you can too. A graphic tee can light up the simpler sides to your personality. With these t-shirts in your closet, you do not have to worry about having fewer comfortable clothes. Wear a graphic tee and look charming than ever!
1. Rock a Blazer with Your Graphic Tee
Christian graphic tees are the talk of the town these days, so if you have them in your collection or any other t-shirts with different designs on them, then get ready to rock it. Although blazers seem to be the perfect choice for formal wear, you can definitely wear them with a graphic tee and look absolutely stunning.
2. Wear the Graphic Tee with a Pair of Jeans
What's better than jeans to wear with a graphic tee? No matter if you have Christian t-shirts designs, owl designs, or any other ones on your shirt – you can wear it without any doubt with your favorite jeans. Stop overthinking and start dressing up!  
3. Adorn the Graphic Tee with Chinos
Talk about comfort clothing! What's better than chinos to look cool and cute at the same time? If you have a graphic tee in your collection and you still have no idea how to wear it, then you are wasting some dollars in your closet. Wear your favorite graphic tee with chinos of your choice and look amazing while being casual!
4. Shorts with Tees of Your Choice
Graphic tees are the perfect apparel to wear with shorts. Are you planning a vacation on the beach or going out for a casual meet-up with friends? No matter the occasion, dress yourself up in your favorite shorts and graphic tee – don't forget to wear matching shoes to complete the look.
5. Get the Minimalist Look
If you are not a fan of something heavy and formal, then a good graphic tee will do justice to your entire personality. Simple yet fashionable, so what are you waiting for? Get your hands on the finest and one of the best graphic tees to make a style statement while staying minimalist.
Final Words
Graphic tees are definitely making their way to everyone's wardrobe, no matter if it is a boy or a girl. So, do you have any one of these in your closet? If you have, then you have more options then you can imagine. Wear graphic tees with your favorite clothing items to accessorize them in the best possible way. Do not wait up and grab the best graphic tees for yourself in case you do not have them already. Shop them from our store!