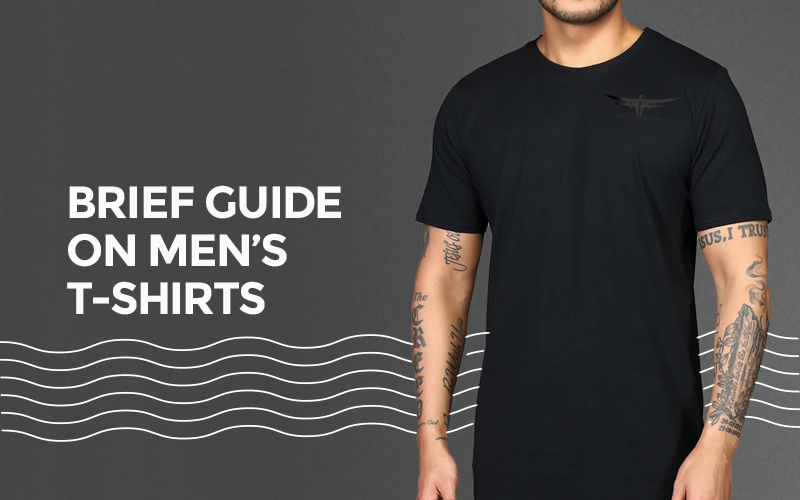 23 Mar

Brief Guide on Men's T-Shirts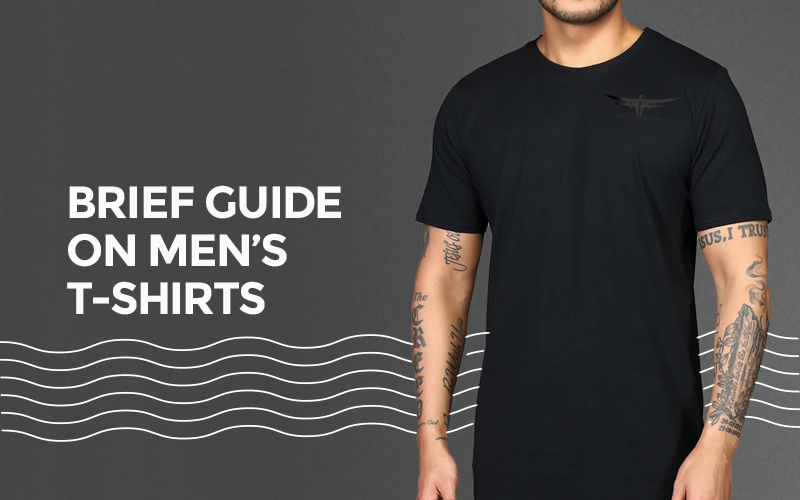 Express a true sense of personal style with casual dress. The right tee is all you need to stand out when you are in crowd. You will love the stares of people wearing the right piece of clot. And, it is simple – all you need to make a wise decision.
Whether you have a preference for something smooth or rocky, chic or pragmatic, casual wear is what you need the right way to dress in what feels most comfortable to you.
You are not required to lay emphasis on formalities; instead, find the right balance on everything from
Comfort to individuality, and style. Give your all consideration to fashionable yet functional outfits.
To make it more simple, easy and fun, here we have collected several tips. You are suggested to read and follow all. They are easy to follow and get you results in no time.
Keep it Casual
Make sure what you are wearing is casual. Do not take any wrong impression with the freedom and flexibility of the casual dress code. We can understand it is quite challenging and overwhelming at the same time to find the right balance and the right path. Most men will thus have a habit of retreating into the evasion safe outfit: pants, t-shirt and a chic pair of running shoe matched with the outfit. But there are a number of subtleties to flavor your casual look. So you don't need to worry about this.
We know, comprehending all the style shades can seem like intimidating task and this is it is important to get to know about some of the most common dress codes, including the most casual and the most formal ones. For instance you cannot wear Egyptian t-shirts with some colorful pants, if you want to maintain your formal look.
Make Sure You Select the Perfect Fit for You
Interestingly, a number of women believe that in a tailored white t-shirt men look more desirable. The form of your top highlights the profile of your broad and narrow neck.
There's a warning though, it will suit ideal and show the best qualities of your body, without appearing like a skin proof exercise sheet. It will make you seem sexier, regardless of how you are built.
Do not Forget About the FABRIC of Your Tee
Price is not synonymous with top weight. The lightweight fabrics typically cost more than t-shirts. 100% cotton, particularly Egyptian cotton or Pima cotton, is preferable as they are made of thick, longer-lasting staple fibers.
Cotton mixtures are good options to consider, as well. A small volume of Stretch Fiber) helps hold the top form, whereas the cotton polyester mixtures are not expensive in price and are preserved effectively by reducing their production.
Add-on: Tips for Choosing The Perfect Tee for You
Here are some tips you can follow to select the perfect tee for you:
Logos and artwork teas are fine, but wear them in a casual environment. It will be better. You may also want to be watchful of what is on the top, as these t-shirts are fashionable and styles are shifting with time, as well. Think of creeping t-shirts that attempted to return but did not thrive like they did in the sixties and seventies.
T-shirts and jeans and trousers are usually worn. Henleys, among most suitable tees, fit with khakis and casual slacks. Don't wear a fitted shirt or a jacket, no matter how much want it.
Long butty tees are the look of a kid, and shouldn't be wearable by men irrespective of their height. Slim and waist-length is a different style you need to keep yourself away from. When you have a T-shirt that is too long, you can be reduced to the desired length instantly and conveniently. The same goes for a tee that is too short, you will end up with a lousy look.
You should wear teas tucked in or untucked. Also wear a shirt, if tucked. If you tuck a T-shirt in, you prefer to concentrate on the abdominal region, so consider leaving the tee unstick if the waistline is on the wider side.
You should put on or wear loosely t-shirts. They look fantastic with a sports coat or blazer, cardigan or jumper — especially in shape.
Under a sport-coat, cardigan and button-up shirt long sleeve tees fit fantastic. The winter months are great in which you can wear this.
Preference for neckline makes sense. Any design is appropriate. V-necks make things look casual, sporty.
Don't wear a t-shirt over a suit. Not a nice look, without doubt!
Get the Best Piece from Last Heros
At Last Heros, we can understand how hard it is to let go of a beloved old tea, but if you creep around in the closet, you will not get any good thing. You can get your hands on a wide range of tees from Last Heros.
Each piece is just great and gives you impression that it is just made for you. We, at last heros love to serve you with our creative and personalized approach. It means, we love what you want and make sure you get what you want or ask for.
Not limited to just quality, we pay special attention to our products' costs. We are not like companies who ask for hefty amounts against their products, we never do this. Instead, we make sure you get quality products without hurting your budget. We are expert in Egyptian t shirts designs and Egyptian Queen T-shirt.