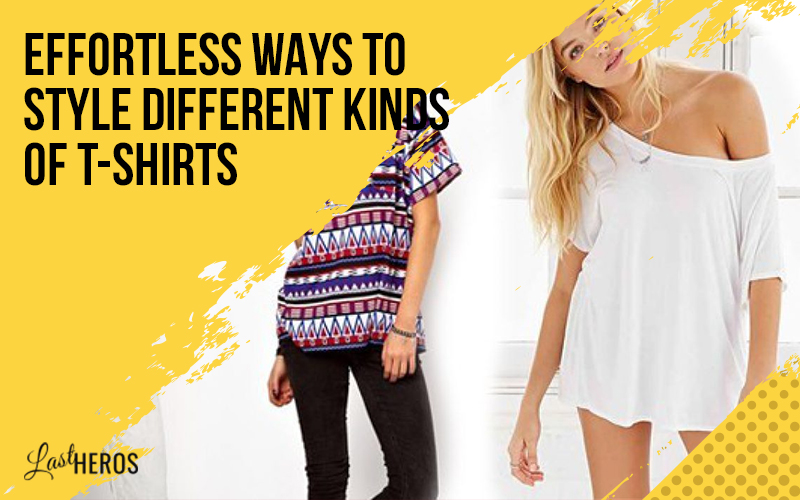 21 Aug

Effortless Ways to Style Different Kinds of T-shirts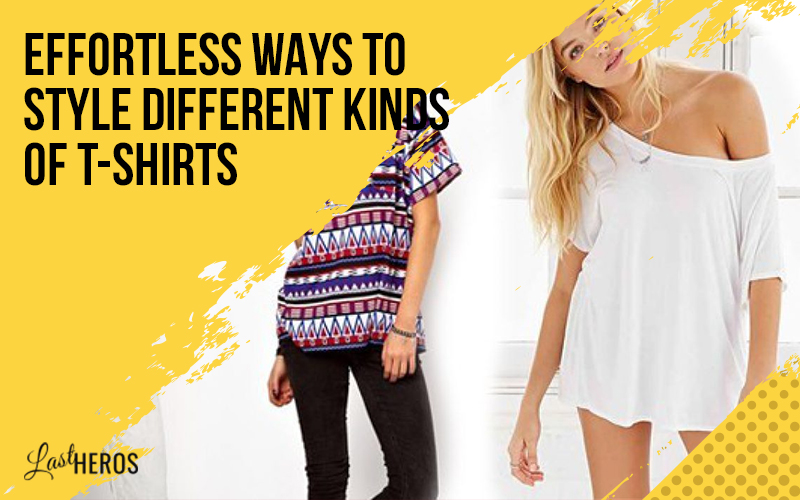 In every gentleman's closet, there hangs a humble, staple t-shirt. The affordability and versatility of t-shirts make them perfect to be worn in infinite ways for almost any occasion, except maybe for a cocktail dress party. That being said, the rules to wear t-shirts are rather straightforward. Start with the primary colors like black, white, grey, and navy, and then you can pair them with just about anything from knitwear to collared shirts to jackets to blazers. Once you've accomplished that, you can start experimenting with prints, patterns, materials, and detailing to own your unique look.
Here's the ultimate guide on how to wear t-shirts for sale with elegance and style.
Wearing Plain T-shirts
Plain tees are the easiest staple item for anyone to pull off. As mentioned above, these are solid-colored t-shirts that are reliable in pairing with everything. When worn alone, they already look sharp during the warmer days, as shown by celebrities like Gosling. Layer them up in the more cold seasons, and you have an entire clothing dimension to play with. If you're doubtful of how to pair your t-shirt, go with a plain white tee and pair them with black, blue, or stonewashed jeans. It's cool and casual, and that's precisely the look you're going for. You can even pair them with denim jackets, bomber jackets, or cardigans as needed. Plain t-shirts can also work with plenty of shoes from leather boots to casual sneakers. Runners can also work here but only if you're going for the athleisure look. Just make sure they fit nicely and aren't baggy.
Wearing Striped T-shirts
What's the difference between stripes and printed t-shirts again? Actually, there isn't one, but their geometric design puts them in another class worth mentioning. Officially called the Breton t-shirt, striped t-shirts are famous among the world's more stylish men. Provided their pattern, the fundamental rule is to rock striped t-shirts with solid-colored bottoms. That includes blue denim, black denim, plain trousers, or chinos. The reason behind this is between the lines – you don't want lines clashing in your look. Imagine someone with a striped t-shirt wearing striped pants. You'll look like a convict on the loose.
Another important point is the vertical stripes. Avoid these unless you have the flattering body as vertical lines will contour around your physique, not exactly fitting with a muffin top.
Wearing Printed T-shirts
Printed vintage t-shirts for sale abide by the same rules as the plain tee, but they're one step ahead in terms of giving your look a bit more character. The only rule is to be subtle, whether it's a graphic design or a brand logo. We're past the times of overzealous branding from the 2000s; nowadays, funny custom t-shirts for sale are made to improve a man's overall look, not overpower it. If you're wearing loud trousers, pair them with a solid-colored tee with subtle matching print colors.
Wearing Cotton T-Shirts
Make cotton t-shirts your best pal during the summer season. They offer versatility, durability, and can be paired with many different items while keeping you comfortable. The one rule to wear cotton shirts is to know your occasion. For formal-casual looks, avoid printed cotton t-shirts as you'll probably put a casual blazer over it. Other than that, it's one more tee and jeans combo where you can let your imagination run free. A white cotton tee paired with black denim is the epitome of class.
Wearing Henley T-shirts
The henley tee remains a classic of the vintage motoring scene and has been promoted by famous men like Chris Evans, Ryan Gosling, and Chris Hemsworth. The notched neckline adorned with buttons advances the modest t-shirt into masculine fashion territory. Keeping that in mind, henley t-shirts are best worn plain and without prints. Color blocking, that's what's key, with jeans being the true partner in crime. Pair your grey or blue denim with white, black, red, brown, or just about any color in the henley variety. Just don't go too overboard or too bright, and don't forget the leather boots or shoes.