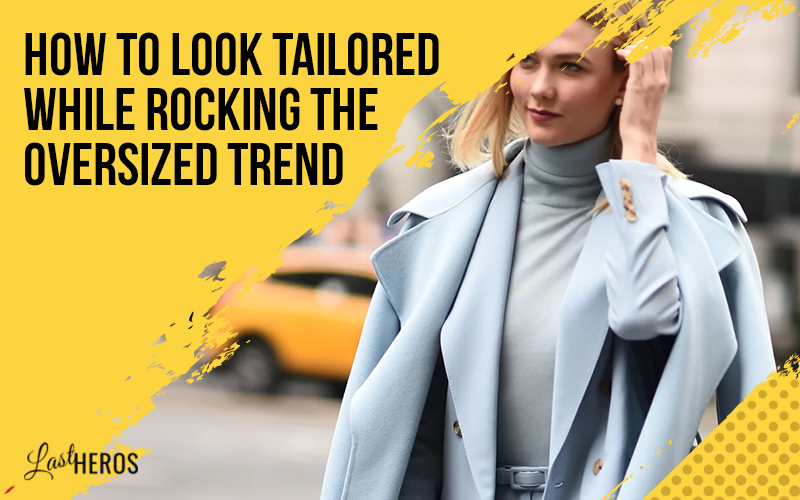 24 Aug

How To Look Tailored While Rocking The Oversized Trend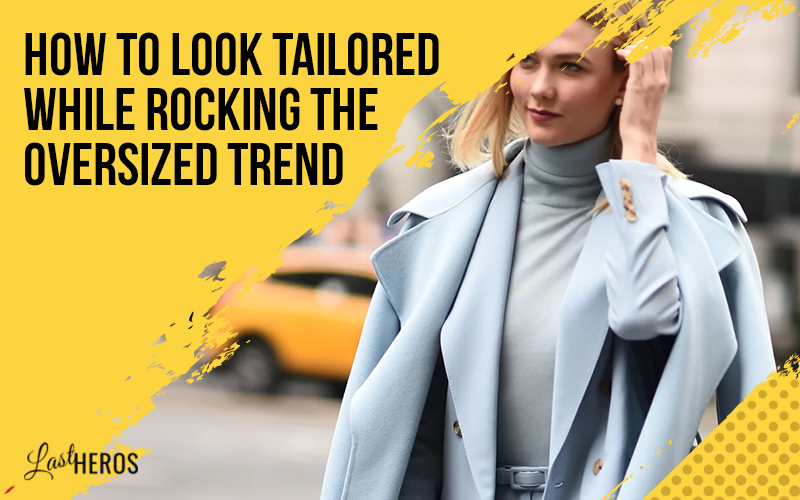 Once upon a time, people used to wear clothes so baggy they needed a staple gun just to stay on. And it was less an act of fashion, more your mom ensuring you could make it through adolescence in a single school blazer. Although, if you graduated any time during the last 15 years, chances are you enjoyed the perks of slim and flattering clothes. For most of the 21st century, skinny cuts have dominated the world of men's fashion.
Following in the steps of Hedi Slimane and Saint Laurent, men's clothing somewhat shrunk during the mid-2000s. It was all muscle shirts, slimline tailoring, and indie bands wearing skinny-fit attire. However, in recent years, the fashion clock had swung backward.
It was partially a reaction to what preceded it, but the oversized trend was also brought on by the rise of athleisure and hip-hop fashion into the mainstream. Kanye West's chunky hoodies and longline tees were only one side of the billowing apparel of Demna Gvasalia, Kim Jones, Patrick Grant, and Virgil Abloh.
Contrary to the nip-and-tuck tailoring and spray-on jeans, this is fashion with comfort. Wide-legged bottoms, slouchy blazers, blanket for coats, and boxy tees. It's not that you can't get oversized tailored, but they certainly have more personality as they are.
Though it should not be thought of as something new or groundbreaking, that would be a mistake. Wider slacks are the centerpiece of the 1950s style, dad jeans are straight out of the '90s, while power suits have a deep-rooted spirit of the 80s. Oversized has always been a unique statement, and only now has it become one that much of the fashion world is making.
How To Turn The Oversized Trend In Your Favor
Oversized Doesn't Mean Big
Don't attempt to cheat the system, either. Some sharp-elbowed shoppers might have grabbed all except one of the must-have suede jackets, but if it's a size or two big, don't just foist it off as oversized, which only works when it's been designed for that purpose.
Purposefully designed oversized apparel provides the extra structure you need to avoid looking like all your clothes have been stretched out, which just looks shabby. You want these items to be oversized in the right places, such as the waist and the shoulders. Otherwise, you'll look like a teenager who hasn't grown into his new school uniform yet.
What's The Occasion?
The oversized trend may be hot right now, but it's not suitable for every occasion, says a famous stylist. Stylists don't think that it works as eveningwear, which is typically the most formal of occasions.
But, that doesn't mean you can't wear it for smarter looks. Take the Armani-inspired Italian suits, which are often a nicely-cut soft style. If it fits on the arm and trouser length, the shoulders, and at the waist, and the other proportions are correct, so it is not too short in the jacket, then an oversized suit, especially a double-breasted on, can work just fine.
Supplement With Balance
As with any trend, it's necessary to avoid the temptation to go crashing in with all the grace of a reversing garbage truck without tires. This style works best when you dip your toes in gently to test the waters first.
Mostly, you just need to balance out the look with a slimmer fit elsewhere. For instance, with an oversized coat, you might want to wear it over fitted jumpers, shirts, designer graphic tees (men's), or slimmer jeans and have just one oversized item that offers the movement. The same applies to trousers or jeans, keep it a normal fit on top, but avoid super skinny as the contrast will appear odd.
How To Rock Oversized Men's Designer Graphic Tees
Skatewear equals streetwear and streetwear equals high-fashion, so thanks to some quick maths, baggy tees – a favorite of those skateboarders – are now high-fashion.
Usual rules about the sleeve of the t-shirt hitting the bicep's center don't apply here, as some cuts fall as low as the elbow. You may consider adding a few rolls to the hem to prevent your arms from looking puny.