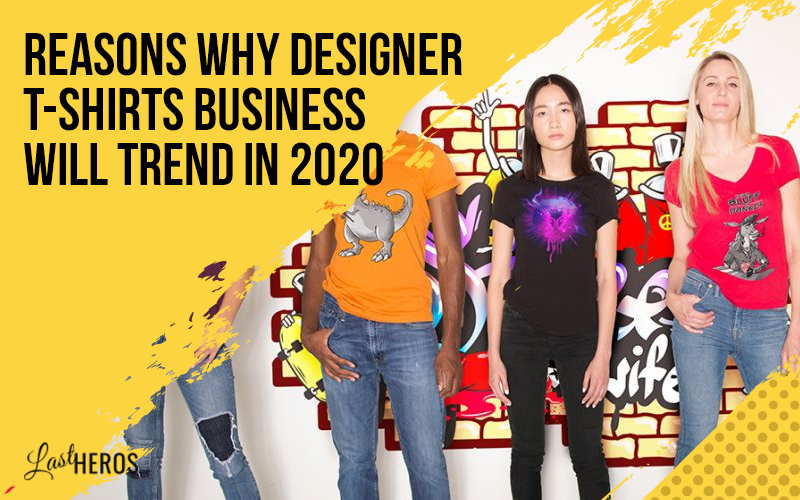 26 Aug

Reasons Why Designer T-Shirts Business Will Trend In 2020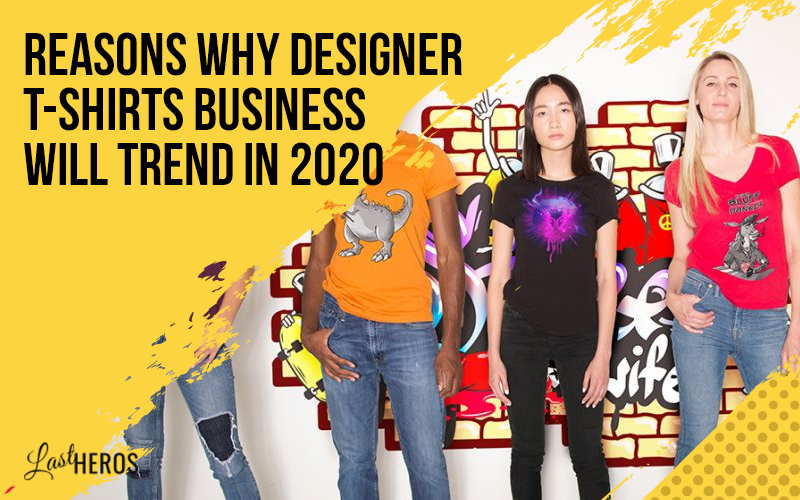 The 't-shirt' is one clothing staple that never goes out of style. Whether it's a plain oversized t-shirt, graphic tee, or body-hugging t-shirt, they have ruled the fashion world and are adorned by people of all ages. If you own an online t-shirt printing business, you can definitely relate to this development. You have to provide customers with what they want to attract more of them. You must have come up with the latest and unique designs.
Off-The-Clock Promotion
Men's designer t-shirts are like a free marketing tool unrestricted by time. Well-designed t-shirts motivate employees and clients to wear them anywhere, thus helping companies build brand identity.
Branding
Each year countless new businesses are started, making it a little difficult for companies to gather attention from their target audience. To spread the word about the company and draw attention, companies have started employing the use of custom t-shirts. Do you ever wonder why car companies put their logos in the back and front of the car? It's for branding purposes.
Putting a logo and other brand information on custom t-shirts facilitates companies to create brand awareness and grab attention. The logos convey the brand message in a more friendly and relaxed way. It can be worn at all times and places, and there is no chance that the person wearing it will go unnoticed.
Customer Loyalty
In this world of neck-to-neck competition, where competitors are now only some clicks away, it takes long periods, sometimes many years, for businesses to gain customer loyalty. Research indicates that customers are willing to remain loyal with those companies that provide them with a great experience.
Rather than depending solely on websites, or events, brands have started giving cheap designer t-shirts as a goodie on minimum purchase of their products. It is assisting them in retaining old clients and making new customers feel valued.
Fad For TV Shows
Game of Thrones, Big Bang Theory, Stranger Things – wherever you go, you'll always have fans of these series around. Although these are continuing TV series, fans like to show off clothes related to these series or characters.
If you possess a t-shirt maker tool, you can help your customers create a design of their own liking. They can choose from various colors, fonts, and graphics, as per their style and fashion taste. Before finalizing the t-shirt print, the tool could allow them to see how the design will look on the fabric.
Less Expensive
Contrary to other kinds of advertising such as TV ads and hoardings, custom t-shirts are one of the more cost-effective ways to market your brand. Online t-shirt designing tools have also made it easier for folks to design t-shirts or shirts for all occasions. In addition to this, a decent quality t-shirt has a longer shelf life, which helps the brand increase visibility for a longer time. More shelf life translates to the growing demand for t-shirts.
Enhances Team Spirit
Over the last few years, companies have become cognizant of the importance of maintaining a strong organizational culture. Custom t-shirts are an excellent way of creating a strong emotional bond with the company. It brings together internal teams and increases commitment and motivation among workers to achieve the company's goals.
Encouraging Sustainability
In recent days, the public has become more concerned and aware of the environment. Which, in turn, is making them consume Eco-friendly products. Not only do these t-shirts feature quotes that encourage people to protect the planet, but they also use minimal carbon and energy. So why not set up an environmentally friendly t-shirt printing company? We don't have a planet B after all!
To Make A Fashion Statement
Today's youth is ever ready to make style statements. In order to show off their sense of fashion, they always choose to wear custom print shirts over anything else. They can flaunt their sense of style by wearing custom t-shirts and many other styles like custom jackets etc. that set them apart from the crowd.
Looking For Personalized T-Shirt Printing?
It's quite simple. Choose a t-shirt—select size and color. There are thousands of ready-to-use designs for you to use, or you can create your own design. You can even hire a designer to acquire a design for your t-shirt.