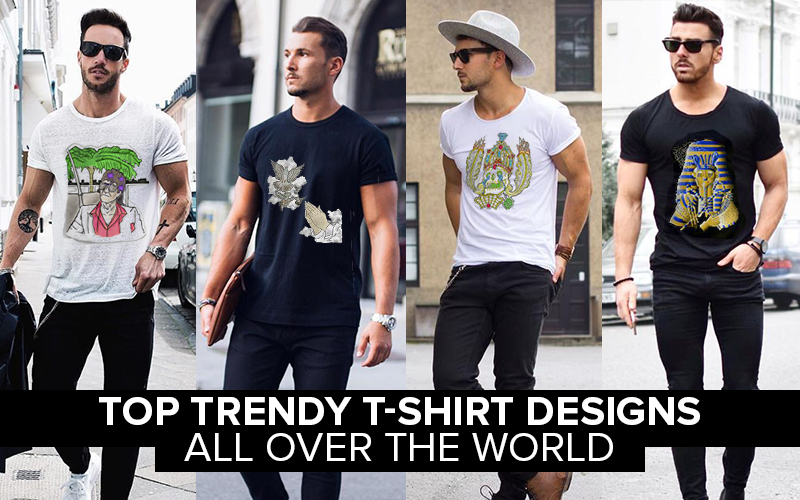 19 Mar

Top Trendy T-shirt Designs All Over the World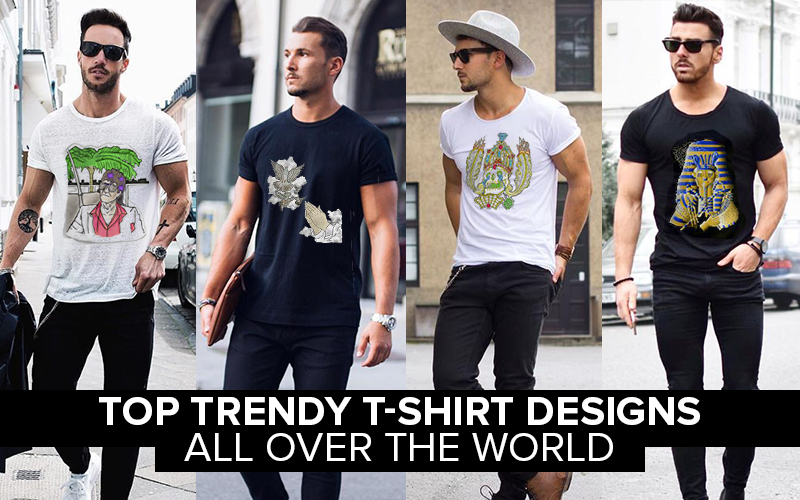 T-shirt is not just another ordinary piece of cloth; instead, they have diversified the apparel industry. If you've been around this crowded street-wear market, then you would've witnessed the popular increase in independent street fashion labels resulting in trendy t-shirts designs with images and illustrations that became pure classics with time.
When it comes to fashion trends, there has not been a guide for success. Celebrities start wearing clothes that they find comfortable, and that makes their way to the general public. Many of those things became T-shirts in USA and made a permanent place in your wardrobe. You may have been hanging on to some of those favorite designs and throwing away others.
Whatever the trend was, there's a chance that you have some shirts still hanging in your closet. It takes a lot of hard work and creativity for the designer to create a mark that leaves a lasting impact on the consumer closet. It's not just about having designer t-shirts for sale. The aim is to create something that people can remember and purchase for years to come.
The list below contains some top trending T-shirts design that many of us are still grooving on.
1. Tie-dye T-shirts
If there's something in a massive amount in 20's fashion industry, it's the Tie-Dye T-shirts. The tie-dye tees were brought into the fashion industry by the musicians and star icons in the late 1960s, and they were arguably the most popular t-shirts. A favorite from the hippie culture managed to find its place in today's closet as well. Contrasting colors with exciting designs make this a must-have collection of fashions a necessity.
2. Just do it
One of the biggest and most popular brands uses this trademark on T-shirts to incorporate daily life and sports together. Their popularity reached such widespread areas that people start wearing these T-shirts to the gym, school, and even offices; occasional festivals also display the love of such T-shirts. Even now, you will find this very trendy design in the closets of T-shirt lovers.
3. Che Guevara T-shirts
Che Guevara or Che Chic is among the trendiest T-shirts of all time.  Many youngsters had been seen wearing these T-shirts in protests as a sign of rebelliousness linked with this icon. The Marxist Che Guevara t-shirt remained popular with the young generation even after decades.
4. Mickey Mouse
Sam Kantor created a t-shirt printing company with a single license to create Mickey Mouse inspired T-shirts. With time, Mickey Mouse has shown massive growth in the t-shirt design. It is probably one of those pieces that you still wear proudly. This cool t-shirt brings a sweet and gentle smile on the wearers' faces.
5. D.A.R.E T-shirts
In 1983, this t-shirt began popularizing across the states as part of the International Drug Abuse Prevention Education program. After the initiation of the campaign, few T-shirts were distributed to the public, especially the students, as part of the drug control strategy. This confident D.A.R.E. logo got transformed into a fashion statement.
6. I love NY T-shirts
The famous and iconic t-shirt stating "I love NY" has some exciting facts bound to it. They were first designed in 1977 to promote and flourish the New York tourism industry. It's one of the best and popular worn t-shirts a wardrobe ever has. This popular design made its appearance on the napkins, and the creative head behind it was Milton Glaser. It's the appearance of this design on the T-shirts that made it famous all over the world.
7. YOLO T-shirts
YOLO acronym for You Only Lived Once was first invented by the famous rapper, Drake. This world won the world of the year by the American Dialect Society in 2012.
It dominates the market of street vendors as well as high-end brands for the decade and more. You can still find YOLO T-shirts online as well as in some local retail shops.
8. We Can Do It T-shirt
During the Second World War, "We Can Do It" slogan was first released to improve the dignity and morale of female workers. The image was rediscovered in the 1980s to promote feminism and empower women of the society. In the present, the picture can be seen on t-shirts, coffee mugs, tattoos, and many other items.
9. Anarchy Symbol
Symbols like circle-A and the black flag were used by anarchists to support their cause and promote it to the locals. Although the phase of punk rock of America has passed, such T-shirts are still representing the revolting reminder with this symbol.
10. The Godfather
Inspired by the Oscar-winning movie "The Godfather," the name start getting visible on the T-shirts Graphic Designs. A black t-Shirt with a famous logo makes it look decent and comfortable. So when you plan to watch this film next time, show your love of the film by putting on this t-shirt.