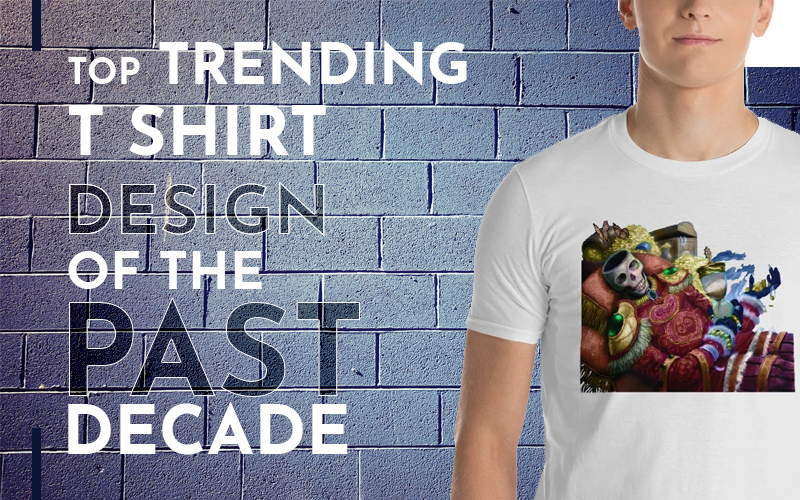 17 Dec

Top Trending T-Shirt Designs Of The Past Decade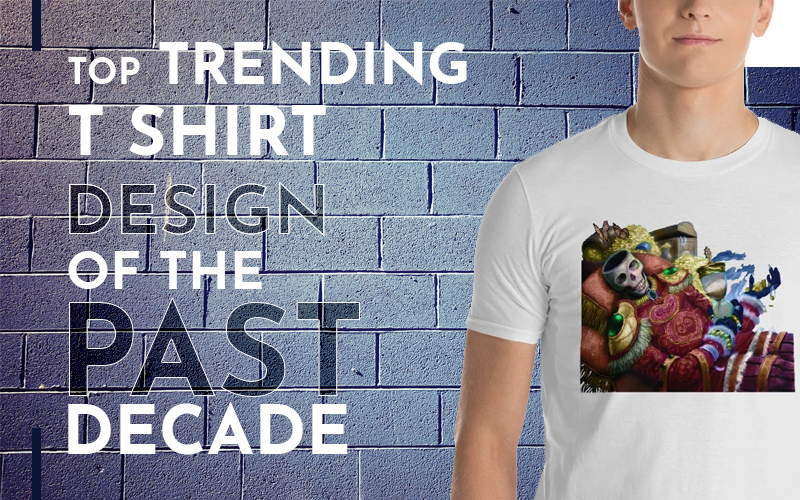 Do you think that Designer T-shirts are just a piece of ordinary cloth? Incorrect. Particularly wrong if you've been around this saturated niche industry we call street-wear. The last decade saw a spike in independent street fashion labels turning out t-shirts with descriptions, and cool graphics that became classics instantly.
There hasn't been an exact blueprint for success when it comes to fashion trends of the last decade. It was more like stars wear what made them feel good- no matter how bizarre it was and then the fashion continues unexpectedly amongst the public. A lot of those items became designer clothing and made a permanent place in the closet which probably left you with quite a collection of items. Perhaps you have held on to some of those staple designs and some you have thrown away.
Whether the trend was short-lived or long-lasting, chances are you still have particular shirts in the closet, and there's no shame in that. You can still wear some old T-shirts and others may be on your social media album. The following list contains some of the shirts you've been lining up for, as well as some under-the-radar shirts you've actually slept on. Let's Begin.
1. Abstract Gold Miner Desginer T-Shirts
These short-sleeve gold miner T-shirts by Last Heros remains a wonderful and perfect gift for birthday, Halloween, Christmas or any other festive occasion. This shirt is made of pure cotton fiber which is durable and breathable. It remains very popular for the parties, gym, beach, park, school, or even club due to its incredible soft material. Definitely, this has to be the next favorite T-shirt going into your wardrobe in the past decade. The pure cotton material used was also thick, as it helps to absorb all the moisture present in the air and leaves no patches of sweat. These Designer T-shirts come in a variety of different colors such as Bay Maroon, White, Fire, Blue, City Green, Heather Dark, Heather Grey, and Grey.
2. Just Do it
One of the trendiest t-shirts found in almost everybody's wardrobe is created by none other than Nike. Nike's famous advertisement campaign with the "Just Do It" tagline not only helped it appeal to customers and support its brand, but it also made these T-shirts worn as a fashion statement.
3. I Love NY Designer T-Shirts
There's an interesting fact behind the popular t-shirt "I love New York." They were designed in 1977 to promote tourism in New York. It is one of the most popular worn tees ever. Milton Glaser created the popular concept on a napkin. It appeared on a tee and made it well-known throughout the world.
This Designer Christian T-shirt by Last Heros takes you on a quick trip with views of heaven with angels. This remains the ideal and iconic shirt for any occasion be it any religious gathering or just a casual day out. We find this shirt being sent as a gift to loved ones as a gesture to express deep emotions. Isn't that just perfect? In addition to all this, it is made of top quality cotton, which is not only durable but also retains all the moisture that makes it breathable and perfect for summer and beach days.
5. Tie-Dye T-shirt
If 20's fashion industry has seen something in abundant it is the trend of Tie-Dye T-shirts. Brought into vogue in the late 1960s by rock stars and counterculture leaders, the tie-dye tees are arguably the most famous t-shirts ever made. This t-shirt, a staple for hippie culture, has found its place in today's wardrobe too. Colors contrasting with thrilling designs make this a must-have fashion collection.
6. YOLO T-shirts
Famous Rapper Drake's slogan, YOLO an abbreviation for "You Only Live Once" was nominated by the American Dialect Society for 2012 Word of the Year. It ruled the street vendors market for the whole decade and can still be seen on tees sold all over the world.
 7. D.A.R.E T-Shirts
In 1983 the International Drug Abuse Prevention Education program started popularizing this t-shirt across the United States. At that time, as part of the drug control strategy, certain t-shirts were distributed free of cost to the public, especially the students. The graphic design on the front with a bold logo of D.A.R.E. turned into a fashion statement.
8. Che Guevara Designer T-shirt
The trend of the most iconic and popular designer t-shirts are not complete without mentioning the name of Che Guevara or Che Chic. Even after decades, the t-shirt featuring Marxist figure Che Guevara graphic remains popular among the young generation.